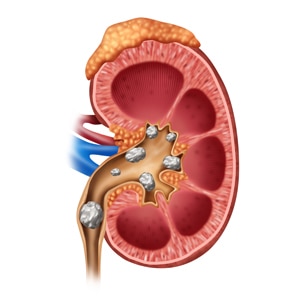 Until now (and hopefully never after this) I had never had a Kidney Stone. I heard that they hurt really bad and that there is really no other pain like it.
Well I can say, I now have a reference point for what people are talking about. For the last week and a half, I have been in the process of passing one (maybe more). And it is a unique experience that I would wish on no one. Where you feel physically fine, you internally hurt. The painful pressure that envelops you and its course is not something that can easily be described. For a week or so prior to getting the diagnosis that I indeed had a kidney stone. I had lower back pain that wrapped around both sides of my back. Im heavy set and had been doing some cleaning and moving things around and what have you and thought that maybe this was just an old injury waking up from not sleeping well and that I needed to flip my mattress. So I didnt think anything about it. But I noticed that my urine started becoming clear. And this gave me pause. Because last time that my urine was clear, and I had lower back issues it was because I was in Diabetic Ketoacidosis. So I made a trip to the local Urgent Care clinic and told them everything that was going on and what my concerns were. I asked them to do a blood panel and x-ray to see if everything was ok. They only did a "dip stick" test and told me that everything looked fine. Of course it wasn't and they just wanted to bill me quickly and send me home. So A few days later, I wake up with this horrible pain/pressure in my right side. It was a day that I was supposed to take a friend of mine to her doctors appointment. I asked her if I could still take her but that I wanted to go by the Urgent Care center over by her doctors in hopes that they may do a few more tests. About 30 minutes later, I had to call and cancel plans with her as I felt I needed to get into the ER quickly. I have this crippling pain in my side, and my heart beat was erratic and all over the place. Looking back now, I shouldn't have driven myself.
Upon arrival, I barely made it through the intake questions before it felt like I was going to vomit. I ran to the restroom where I did just that. For the next 4 hours I would vomit, lose the ability to regulate my temperature and be so uncomfortable that it wasn't even funny. Like a miracle after the testing had happened, the doctor came in and said "do you want to stay here or do you want to go home?" I asked if they were going to do anything special that I couldnt do at home. "No not really, all we'll do is keep you hooked up to IV's and wait." I of course chose home. The 10 mile drive home was one that I dont remember much of. I felt like I was underwater, and seeing everything through a haze. I just remember trying to speed home and getting mad that everyone was doing what felt like 15 miles under the speed limit. The week long bullshit that came to follow was the hardest that I ever had to deal with. I laid in bed, day and night. Watching the progression of hours across my walls as dark became light and faded back to dark. I heard the whole world roaring around me. The little things that my neighbors did in their day to day lives. How I could tell who was home by how hard they slammed the door. Sometimes waking me up from my all to few and brief moments of painless sleep. The overly powerful narcotics that the hospital gave me, making me sicker and unable to clearly think. To no even be able to entertain myself with music, or television because the light, sound, and motion of it all was far to much to process. Even talking on the phone was a chore. I had little happiness here and there when my super hero of a friend would come by to check on me. And like a doting nursemaid would come and check on me, and graciously go to the store and retrieve things that I needed or wanted. I honestly couldn't have asked for a better friend. At one point I think that she even "laid hands" on me. A gesture which I am sure brought her comfort, and I am thankful that she would if she did. But laying on my back, in one position, for several days. I began thinking of my last days. If this is how it is to pass, then I hope that mine comes quickly. I dont want to lay in a bed, waiting, wishing, hoping. I want to fall asleep after telling my loved ones I love them, and wake up where ever the great beyond takes us.
The hardest thing to deal with was the racing thoughts, and being a slave to their whirlwind changes. Good, bad, depraved, evil, hysterical and everything between. At one point I just gave up any semblance of control and allowed myself to follow them. No matter how obscure, dark, grotesque, just to follow them. It was all I could do. I didnt have the strength to fight a mental battle as well as a physical health battle. The dreams that formulated from doing so were strange flights of fancy and darkly sanicle. I purposely stopped taking the narcotics because it was making me feel worse. And switched over to over the counter medications. At the time of writing this, I believe im on my out of this nightmare. I can only hope to never step foot on this path again. As this is not something that I want to do ever. I have made my purchases at the giftshop, created a scrapbook page, and now am ready to heal and move forward. So if this was the yearly gift of self that I seem to have every year before my birthday, then I can only imagine what is to happen when I turn 41. Last February it was Covid. The year before that was cluster migraines, and the year before that was something new as well. I am not looking forward to 41. But with this kidney issue in the hopeful rearview mirror, 40 will be a good year.